Our online world is increasingly an arena where facts and figures are fighting for our attention. So across a host of sectors – from retail to education, finance to medicine – shining a light on compelling information, and presenting it in an engaging way, is crucial for connecting with visitors who are time-poor, screen-fatigued, overwhelmed – or possibly all three.
It's here where infographics – those eye-pleasing combinations of design and data – can step in and make a big difference to your marketing efforts. Infographics help you cut to the chase. They're a terrific way to deliver key points, share surprising statistics and communicate complex information.
Looking great
Beyond these benefits, well-designed infographics just look fantastic on webpages and films. Infographics are flexible too. Simple one-panel graphics can contain a central take-out – 90% of the information transferred to your brain is visual – for example. And they can brighten up and add character to websites. Check out this page we worked on for the University of Edinburgh – our animating graphics have really given the menu section a lift: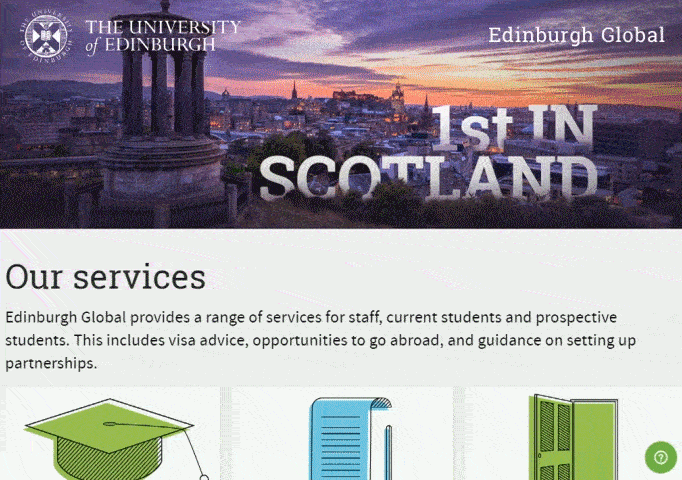 And on this page, animations bring key statistics to life: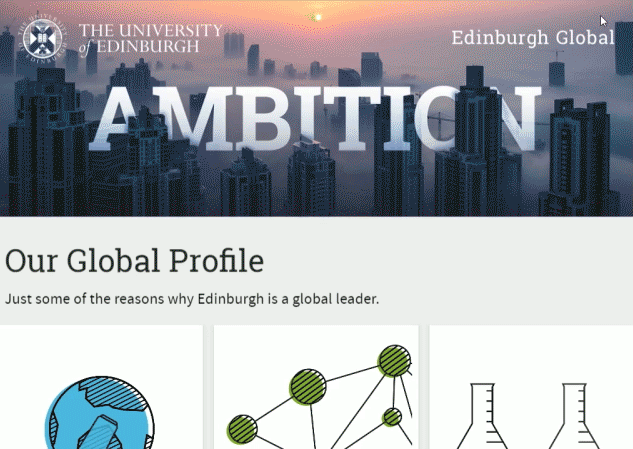 Complex or more involved communications – your organisation's history, say, or a product's benefits – will demand a weightier infographic: a timeline, perhaps, that tells your story. Perfect for online films.
Whatever you have to say, why not be kind to your viewers and visitors? Give them something great to look at and compelling to learn.
Here are five irresistible reasons why you should embrace infographics.
They declutter and clarify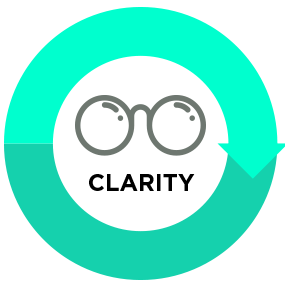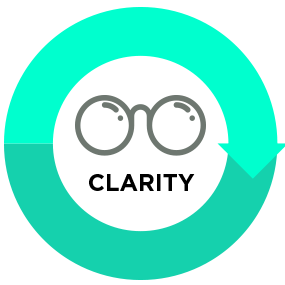 A key strength of a good infographic is its immediacy. Infographics please visitors by gifting them the facts they'll find most relevant. That invites further engagement, be it reading a post, watching a YouTube video, requesting a call or downloading a file.
They simplify and seduce
When graphics and facts unite, the result is a simple, seductive and succinct story. And that's so often the sweet spot marketers strive for. We all love facts and figures, and infographics are the ideal platform for grandstanding the facts most likely to connect with our audiences – and invite deeper engagement.
The result is a simple, seductive and succinct story – so often the sweet spot marketers strive for.
They communicate expertise
By exploiting graphs and charts, tables and quotes, your industry know-how is presented front and centre. That helps demonstrate specialist knowledge and can position your organisation as a thought leader. And when given the freedom of motion in a film, even the driest facts and stats can sparkle.
They bring films – and information – to life
The rise of motion graphic films has provided a compelling new platform for infographics use.
We have already referenced the power of infographics in translating often-weighty facts and figures into manageable, eye-pleasing nuggets. Now the motion graphic film can make terrific use of infographics, lifting them from static images on a page to the stars of the show.
At Hookson we've created a bucketful of motion graphic films featuring infographics. Our clients love them because they're effective, engaging and look terrific. What's not to like? Here are a few of our favourites:
In this film, motion graphics helped us deliver a compelling invitation to Paris:
Here, our film made use of motion graphics to arrive at a memorable and award-winning, message about industry automation:
In this film, motion graphics and infographics combined to present crucial facts in a friendly manner:
They're sure to be shared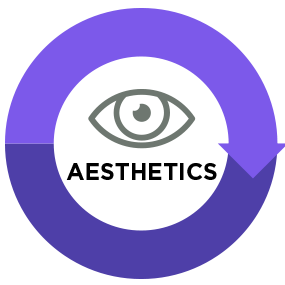 Make your infographics and films work harder by sharing them across email marketing and social media channels. From there, the sky's the limit. That's because great graphics and animations are picked up on by others. And that can magic even the most humble infographic into a viral sensation that garners new visits, communicates your message and ramps-up ROI.
Sharing also creates the potential for valuable backlinks to your website or social media page – good news for your SEO efforts too.
So make sharing easy: consider adding a share button to your image. And with your infographic grabbing the attention of potential new targets, include your logo and URL in the design – just don't make them the distracting stars of the show.
Your humble infographic can become a viral sensation that garners new visits, communicates your message and
ramps-up ROI.
Can Hookson help me draw up a plan for awesome infographics?
Our words and pictures are ready and waiting. From the strategy at the back-end to the messages out front, we'll work with you to produce the eye-catching, benefit-bringing graphics and films that will help you stand apart online. Just give us a shout today.